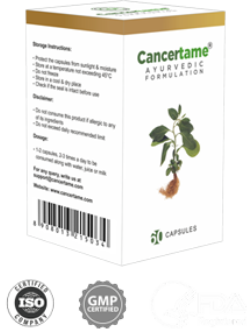 Cancertame Ayurvedic 60 Capsule Rs4,200

Cancertame Ayurvedic Formulation tames aggressive cancer cells by repairing damaged DNA, inhibiting mutations in genes and pathways, blocking various cancer promoting enzymes and hormone, reviving the process of apoptosis, inhibiting tumour angiogenesis and enhancing immune system of the body. Cancertame helps to boost the immune system of the body against cancer by enhancing the activity of immune cells and promoting production of cytokines (including interleukins, interferons, tumour necrosis factors & colony stimulating factors) that help to fight cancer more effectively. Cancertame also reduces toxic side effects of chemotherapy and radiotherapy including bone marrow suppression and other life threatening complications.
Cancertame is a better remedy, especially for those patients, who have become resistant or refractory to chemotherapy and for those who are not fit to receive chemotherapy and radiotherapy due to old age, marked weakness or any other factor such as kidney failure, severe liver dysfunction or cardiac insufficiency. Cancertame can be taken alone or along with chemotherapy, target chemotherapy, immunotherapy, hormone therapy, radiotherapy or any other treatment before or after the surgery.